Kia Telluride Wins 2020 World Car of the Year
Another accolade for the stylish 2020 Kia Telluride SUV is in! Kia Motor Corporation and the World Car Awards announced the 2020 winners last Spring. Kia also claimed the 2020 World Urban Car with the 2020 Kia Soul EV!
The Kia Telluride has ushered in a whole new audience to the Kia brand with a rugged luxury that is turning the heads of the most discerning luxury SUV buyers. Since the vehicle arrived to North America last Spring the SUV has been hard to keep in stock due to high demand and popularity. Luxury SUV buyers in South Florida have made the Kia Telluride one of the fastest-selling SUVs in the market. Kia Delray offers an extensive selection of Kia SUVs including the Kia Telluride and Kia Soul. You can research how much the Kia Telluride costs and you can contact our team of professionals to inquire about availability.
Big, Bold and Boxy, New Midsize SUV is Made for Adventures
Largest Kia ever provides comfortable seating for up to eight passengers
Potent 3.8-liter GDI V6 with 291 horsepower and 262 lb.-ft. of torque
Powerful exterior design and premium, well-appointed interior
Loaded with technology to enhance comfort, convenience, utility, and the driver and passenger experience
Designed in America for America
Telluride is the first Kia designed specifically for the U.S. and is a product of the Kia Design Center in Irvine, CA. From the first pencil stroke it was meant to convey the kind of presence associated with the original legendary SUVs – big, bold and boxy – and the go-anywhere, do-anything attitude their square, burly-shouldered shapes suggested. The Telluride's sophisticated exterior accents also hint at its interior luxury. Main design cues include:
Long, broad hood and wide grille
Bold, stacked headlamps convey power and stability
Upright windshield and clean side profile conveys muscular tension
Inverted "L" tail lamps with LED stripes (standard on EX and SX trims)
Elongated nameplates on the leading edge of the hood and on the liftgate provide a distinctive identity for flagship SUV
Sculpted rear skid plate with integrated twin exhaust tips reference off-road ability and power (standard on S, EX and SX trims)
The Telluride interior is designed to continue the impression of upscale exploration:
Grab handles integrated into the center console suggest journeys off the beaten path
Wide console with emphasis on the horizontal through artistic use of premium trim features to convey spaciousness – more "luxe living room" than "utility vehicle"
Spacious cabin for generous hip, shoulder, leg and headroom, including in the third row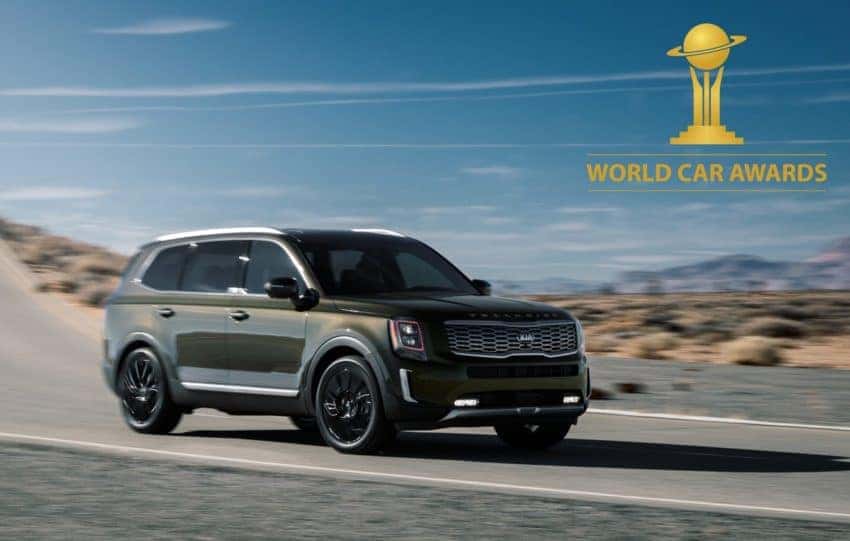 Engineered to be Confident and Capable
Telluride is engineered to be capable of a variety of driving conditions and provides a driving experience that is enjoyable and confidence-inspiring. Among the many factors that contribute to the Telluride's composed ride and performance:
Atkinson Cycle LAMBDA II 3.8L V6 GDI engine producing 291 horsepower at 6,000 rpm and 262 lb.-ft. of torque at 5,200 rpm
8-speed automatic transmission
Four-wheel independent suspension
Strong, stiff, and torsionally rigid body structure due to the monocoque shell that is composed of 59.4 percent advanced high-strength steel
Self-leveling rear suspension. Ride height is automatically calibrated depending on vehicle load to optimize control and stability (optional on EX and SX)
Choice of four drive modes – Smart, Eco, Sport and Comfort – each using different settings for powertrain, drivetrain, and steering effort mapping to provide the desired driving experience. In addition to the four regular drive modes, in vehicles equipped with AWD, drivers can select from two different modes, "Snow" and "AWD Lock", for specific driving conditions
Available active on-demand all-wheel drive2 helps provide enhanced driving performance by actively distributing torque between front and rear wheels depending on road conditions and driver input. The system utilizes electro-hydraulic AWD coupling to precisely activate the multi-plate clutch plate, constantly redistributing the amount of power transferred to the front and rear wheels. During normal driving, power is distributed according to the drive mode selected. "Eco" and "Comfort" modes can deliver up to 20 to 35 percent of the power to the rear wheels, respectively. "Sport", "Smart" and "Snow" modes can deliver up to 50 percent of the power to the rear wheels. "AWD Lock" mode delivers power evenly to all four wheels.
Downhill Brake Control (DBC)4 maintains a controlled descent on steep roads
Kia Delray is located near West Palm Beach, FL. We offer an easy way to buy your Kia online, and you can even take the next step by applying for financing online. Our finance team will work hard to get you a fair price on your trade-in and a price you can afford on the model of your choosing. What are you waiting for? Check out our new vehicle specials, learn more about how Kia SUVs (like the Sportage and Sorento) compare, and then contact us today or shop a car online today.
PRESS RELEASE
KIA TELLURIDE – 2020 WORLD CAR OF THE YEAR WINNER
And KIA SOUL EV – 2020 WORLD URBAN CAR
TORONTO, Canada – Wednesday, April 8, 2020
The World Car Awards and our 86 jurors from around the world recognize the widespread impact of the Covid-19 pandemic and extend our condolences to all those affected. In deference to that impact, we are respectfully limiting the reveal of the 2020 World Car Awards winners to the announcement via digital media.
The Road to the 2020 World Car Awards concluded today with the declaration of a double win for Kia Motor Corporation. The KIA TELLURIDE is the 2020 World Car of the Year and the KIA SOUL EV is the 2020 World Urban Car.

"Everyone at Kia is truly honored to receive not just one, but two awards from the World Car Awards judging panel," said Thomas Schemera, Executive Vice President and Head of Product Division at Kia Motors Corporation. "This is one of the hardest-fought competitions in the global automotive industry, proving that the Telluride and Soul EV are both truly outstanding vehicles. These accolades are a testament to the talents and efforts of a worldwide team, who all strive to create desirable, high-quality, and practical cars that drivers love."
The KIA TELLURIDE was chosen from an initial World Car of the Year entry list of 29 vehicles from all over the world while the KIA SOUL EV was chosen from an initial entry list of eight World Urban Car contenders. Both vehicles were Top Three in the World finalists in their respective categories as announced on March 3rd.
For a complete list of previous winners, please visit our web site: worldcarawards.com
Vehicles were selected and voted on by an international jury panel comprising 86 prominent automotive journalists from 24 countries around the world. Each juror was appointed by the World Car Steering Committee on the basis of his or her expertise, experience, credibility, and influence. The international accounting firm KPMG tabulated the jurors' ballots.
There were several stops along the road for the 2020 program, including one in Los Angeles in November for our sixth annual L.A. Test Drives event hosted by ZF.
Then, the World Car Finals were launched live in New Delhi, India from the Delhi auto show on February 5th
when the Top 10 and Top Five finalists in five World Car Awards categories were announced.
The World Car Finals continued with the announcement of the Top Three in the World finalists on March 3,
2020.
ABOUT
World Car Awards
Now in their 16th year, the annual World Car Awards are the number one awards program in the world for the seventh (7th)
consecutive year based on Prime Research's 2019 media report.
The awards were inaugurated in 2003, and officially launched in January 2004, to reflect the reality of the global marketplace, as well as
to recognize, reward and inspire excellence, leadership and innovation in a rapidly changing automotive industry.
The awards are intended to complement, not compete, with existing national and regional Car of the Year programs.
The World Car Awards are administered by a not-for-profit association, under the guidance of an executive committee, a steering
committee as well as a group of advisors as follows: Peter Lyon (Japan), Mike Rutherford (United Kingdom), Tim Stevens (USA), Jens
Meiners (Germany), Siddharth Vinayak Patankar (India), Gerry Malloy (Canada), Ginny Buckley (United Kingdom), Toni Jalovaara, (Finland), Scotty Reiss (USA), Lionel Robert (France), and Carlos Sandoval (Mexico). Beth Rhind (Canada) is the co-founder and the Executive Director.
New York International Auto Show
Owned and operated by the Greater New York Automobile Dealers Association, the New York Auto Show is an awesome combination of new ideas, technological innovation, exceptional concept cars and nearly 1,000 of the latest new cars and trucks. Over one million visitors are expected to visit the show this year to see what is truly possible from the automotive industry.