How Do I Check Tire Tread Depth?
Tire maintenance can mean the difference between getting out of a slick driveway or maintaining traction in a rainstorm on your Boca Raton commute. If you're wondering whether you should rotate your tires or replace them altogether, you'll need to first assess the wear on your tires. Learn how to check tire tread depth with the service center experts at Kia Delray.
What's a Safe Tire Tread Depth?
First, it's important to understand your specific tire needs, especially if you live in a colder climate or have opted for custom wheels. Beyond any unusual ranges and circumstances, though, your new tire tread depth ranges from about 10/32 to 11/32 of an inch. Deeper tread grooves are typically available in colder areas, though that's not likely an issue on your drives around Boynton Beach. According to experts at the U.S. Department of Transportation, you should replace your tires at 2/32 of an inch. It's worth noting that your Kia will perform better in terms of fuel economy and maneuverability with proper tread depth, and knowing the answer to "How do I check tire tread wear?" will ensure better traction, making all your travels safer.
What's the Penny Test?
You might think that checking the wear on your tires requires special tools or some specialized technique, but it's actually quite simple with a couple of handy tricks. Enter the Penny Test! Wondering how to check tire tread depth with only a penny? It's simple:
Place the penny in between a groove on the tire with Lincoln's head facing down.
If you can see all of Lincoln's face, the tire treads measure 2/32 inches deep or less and it's time to schedule a tire replacement.
Do this for each tire, and be sure to check different areas on the tires.
Other Ways to Ensure Tire Performance
While the Penny Test offers a good rule of thumb, there are plenty of other ways to make sure you're getting the most of your tires. You can use a tire tread depth gauge or tread wear bars that indicate when a tire reaches the 2/32 minimum. Both of these are relatively inexpensive and can be reused as much as you want. You can also use these to check your tire variance, which is a way of understanding the expected difference in wear on your tires. Additional ways to keep your tires healthy include:
Tire pressure checks
Inspections for any visible damage
Inspections for any tire rot or disintegration
Tire alignment
Tire rotation
Explore our service specials to make sure your tires are kept road-ready at an affordable price!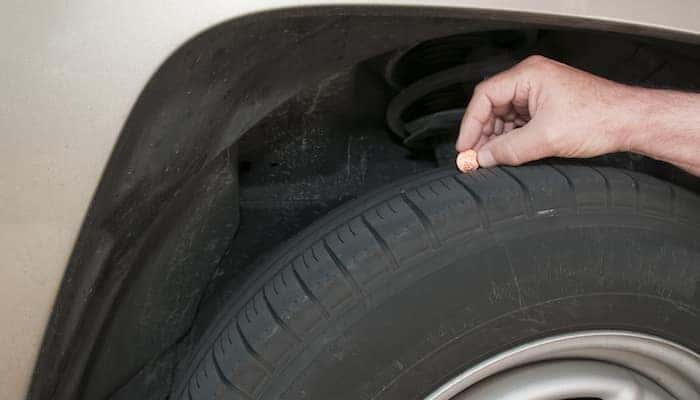 Keep Your Tires in Their Best Shape at Kia Delray!
Now that you know the answer to "How do I check tire tread depth?" you're ready to get back on the streets in confidence! For more tire FAQs and general maintenance tips and tricks, contact Kia Delray today! Whether you're learning about tire treads, wondering if you need full coverage on a financed car, or are comparing the Kia Sorento vs. Toyota Highlander, our team of experts can help.
Recent News from Kia Delray
Looking for a new electric SUV to drive through Boca Raton? Check out the 2022 Kia EV6! It's a great way to reduce your carbon footprint and your fuel costs. Many of our Boynton Beach customers as "how fast is the 2022 Kia EV6?". Some people think that because this car uses an electric battery instead…

Kia has just debuted a completely redesigned Kia Telluride at the New York Auto Show. The biggest news is that the Telluride model line has added on two off-road optimized trims, the 2023 Kia Telluride X-Pro and X-Line models. Take a moment to learn about what's new for the 2023 Kia Telluride, including the…

You likely know the EV6 as the new fully-electric high-performance sedan from Kia, but did you know that it also features spacious Kia EV6 dimensions? With a Kia EV6 seating capacity of up to five, the cabin features plenty of stretching room at seat-level. As for Kia EV6 cargo space, you'll have more than…
;