What Does the Light on Your Dashboard Mean?
When dashboard warning lights pop up on a drive through Boca Raton, it can surely have you feeling confused and worried. You wouldn't believe how many times our service experts are asked, "What does the light on my dashboard mean?" To help you understand what's going on with your ride, the team at Kia Delray breaks down some of the most common dashboard warning symbols and explains their meanings.
Common Kia Dashboard Warning Lights & Meanings
There are several categories covered by lights on the dashboard: engine, brakes, and informative/safety. Let's break them down, so you can be prepared should any of the following pop up while you're driving around Boynton Beach or West Palm Beach:
Kia Engine Lights
Service Vehicle: This is often caused by an electrical issue, like a low battery. Contact the Kia Delray service department to schedule an appointment.
Coolant Temp Warning: Your engine overheating and driving while it's above regular operating temperature can cause permanent damage. Check your coolant levels, and make sure you don't have a coolant leak. Malfunctioning fans can also prompt this alert.
Reduced Power Warning: Your engine is malfunctioning and not producing as much power as it should be. Get it checked as soon as possible.
Kia Brake Warning Lights
Brake System: Low brake fluid or ABS system sensors issues are typically the cause, but this could also point to an issue with rotors or calipers.
Kia Informative / Safety Lights & Symbols
Traction Control: Your electronic traction and stability control system is not operating properly.
Cruise Control: This light simply indicates that you're using cruise control.
Washer Fluid Reminder: Your windshield washer fluid is low and needs to be refilled.
Fog Lamp: This light notifies you that your brights are on.
Security Alert: If your ignition switch is locked or a door is left ajar, this light will indicate either the tech malfunction or alert you of the open door.
Airbag Fault: Typically you will see this light once the car is started, and it means that there is a fault in the airbag system. If you see this light, you will need to bring your vehicle in for service to ensure your safety.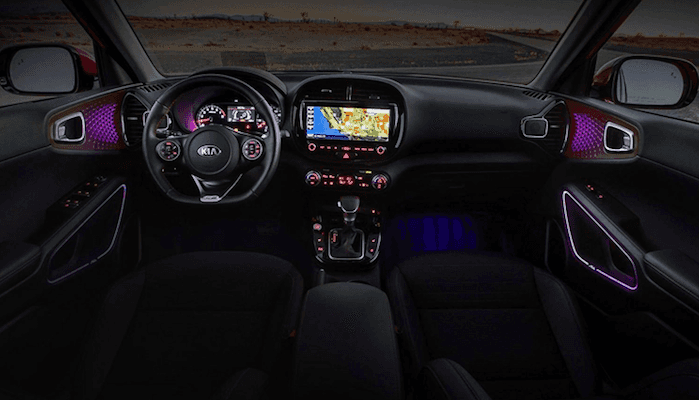 Get Your Dashboard Warning Light Diagnosed at Kia Delray
Do you have any questions for our service experts? If so, don't hesitate to contact us online today. We'll resolve any issues you may be experiencing or help you get on your way to a resolution! We'd also love to help you compare Kia vs. Hyundai or learn about the Kia warranty.
Recent News from Kia Delray
Are you thinking about making the new Kia Telluride Nightfall Edition your next vehicle, like a lot of our Delray Beach customers? We don't blame you! Adding the Nightfall Edition package enhances this already impressive SUV by giving it a distinctly sleek aesthetic. Let's take a closer look at its features, as well as the…

The new Kia Carnival is the latest addition to Kia's ever-growing lineup, but many drivers around Delray Beach haven't yet seen its interior. Take a look at the 2022 Kia Carnival interior with the experts at Kia Delray, and elevate your commute around the streets of Boca Raton. Read on to learn more, and then contact us…

Kia is about to introduce an all-new electric crossover SUV that will completely change the way you drive. The 2022 Kia EV6 is Kia's newest edition to the family, and it's got plenty to make you excited. The 2022 Kia EV6 release date is currently slated for January 2022, but in the meantime, we…
;